Standard General Inc. is proud to provide road construction services and material supply to our clients in the City of Edmonton and surroundings area. We deliver our projects Safely, on time and on budget.
Standard General specializes in the following areas:
Road Construction / Asphalt Paving Services
Standard General's specialty is road construction and no job is too big for us. Our construction services span numerous clients in the residential, municipal and industrial markets and we have completed some of the largest projects in the Edmonton capital region. From the overlaying of a driveway to the complete construction of a new roadway, Standard General has the expertise to deliver the finest quality paving services to the Greater Edmonton region.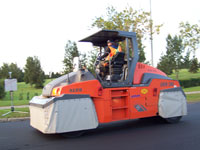 Municipal Construction, Rehabilitation and Residential Servicing
Standard General specializes in all phases of municipal infrastructure work including both new construction and the rehabilitation of existing municipal infrastructure. We service the greater Edmonton area including the City of Edmonton, City of St.Albert, Morinville, Leduc, Spruce Grove, Stony Plain, Fort Saskatchewan and Sherwood Park. Our services include, road construction, base course work, concrete curb and gutter, asphalt paving, driveways, underground utilities, landscaping and street lighting. We can project manage any municipal project to ensure the finest construction available.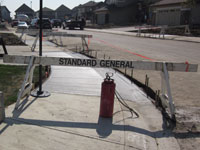 Commercial Servicing
We provide many construction services to our commercial clients including parking lot construction, base work, site preparation, concrete works, asphalt paving, storm and sanitary services, maintenance, landscaping and removal and recycling of existing materials. We deliver your commercial projects on time and on budget.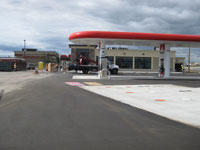 Industrial and Energy Sector Servicing
Standard General can supply many products and services to the industrial and energy sectors. Such things include: material supply of aggregates, asphalt and soil cement, road construction, soil stabilization, concrete work, parking lots, base course work and roller compacted concrete.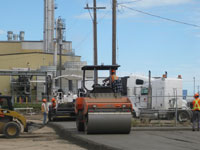 Freeway, Primary and Secondary Highway Construction and Rehabilitation
Large volume and high production paving is the focus of our experienced group of paving personnel. This includes placing and compacting asphalt concrete mix on top of the granular base course, pavement rehabilitation and overlay projects. The work is done with various pieces of paving, compaction, loading and hauling equipment.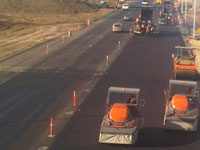 Granular Base Construction
Our base crews are specialists in preparing base surfaces and can load, haul, shape and place incredible volumes quickly. This includes preparing existing subgrade and placing and compacting a granular layer for final asphalt paving. The aggregate used for base construction comes from our Windfall Gravel Pit, where we manufacture various base materials, to ensure Standard General can meet any given specification.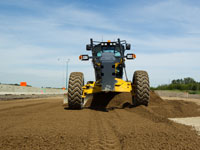 Civil, Commercial and Industrial Concrete Work
Standard General's concrete divisions specialize in the new construction and maintenance of any concrete work including sidewalks, roll or straight face curbs and gutters, barriers and medians. Our concrete crews are well experienced professionals who take great pride in their work and deliver a high quality product.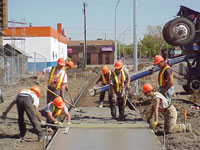 Snow Removal and Winter Maintenance Services
Standard General Inc. provides complete snow removal services such as snow plowing, hauling, sanding, clearing sidewalks and salting. We provide services to businesses, shopping centres, apartment complexes, corporate offices, warehouses and industrial properties. We have equipped ourselves with state of the art graders, front-end loaders, skid steers, sanding units, small sweepers, snow blowers, and sidewalk crews. Please contact us for all you snow clearing needs.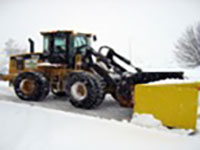 Material Production, Sales and Specialty Processes
Asphalt Manufacturing and Sales
Standard General manufactures and sells high quality hot and warm mix asphalt to our clients from our Acheson, Yellowhead and Leduc facilities. Our asphalt meets all provincial, municipal and industrial specifications and is produced in our state of the art manufacturing plants. We produce various blends of asphalt and manufacture based on the specifications of each client. Our asphalt is produced not only to meet our own requirements but to sell to our 3rd party clients from each of our plant locations. Each mix we produce is tested in house to ensure that our product is of the highest quality.
Companies wishing to purchase our asphalt products are welcome to call the plant to make arrangements. Contact numbers can be found on our Contact Us page.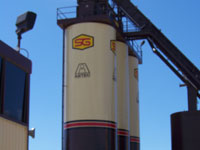 Aggregate Manufacturing and Sales
Standard General produces various aggregate materials from our Windfall Gravel Pit near Whitecourt where it is then shipped by rail to our aggregate depot in Acheson. Our material is produced to supply not only our facilities but also our capital region clients. Our aggregates are of the highest quality and are produced to meet any government or industrial specifications.
Companies wishing to purchase our aggregate products are welcome to contact our Material Sales Division at sales@standardgeneral.ca or (780) 718 8522.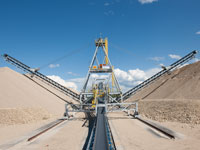 Roller Compacted Concrete
Standard General manufactures and places roller compacted concrete (RCC), which is used for specialized industrial and heavy duty paving. RCC has the same characteristics of traditional concrete but is compacted by traditional paving rollers. This makes RCC very strong and durable. RCC  has no joints and does not require hand finishing or steel reinforcing. The high strength of roller compacted concrete reduces rutting, does not deform under heavy loads, is resistant to spills and temperature changes. RCC is the efficient and economical choice for heavy duty surface construction.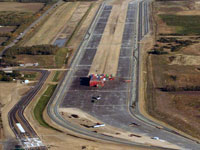 Cement Stabilized Subgrade
Where existing soil conditions are not favourable, we also can use various stabilization and strengthening processes by adding soil cement to enhance the soil to provide a stable and secure base for construction. Soil Cement Stabilization mixes Portland cement into the existing soil increasing the soil's strength and reducing the base water holding capacity. Soil Stabilization has many advantages eliminating the expense of excavating unsuitable soils, importing replacement materials, reducing the overall construction duration and strengthening the soil.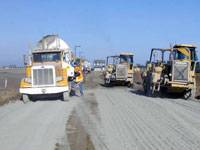 LEED® credit contribution
Standard General can contribute to LEED credits through many of our products and services. Some of the credits we can assist you achieve include: Heat Island Effect, Construction Waste Management, Resources Reuse, Recycled content, Regional Materials, Innovation and Design and Regional Priorities.